Have you ever had a reference book that you HAD to keep near you? This list of must-have books are required reading and should always be within your reach.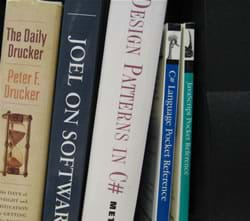 Everyone at one time or another reached for that specific book to find out how that one design pattern works or just needed it as a refresher on how to do that one routine better.
When you grow in your career, you start to notice that tutorial books don't line your bookshelf anymore. Nor do you own "how to code in ASP.NET in 5 minutes." Coding becomes easier. As I've said before, a language is a language is a language.
These books are a testament to the authors experience. It just goes to show you that these books I list below are exceptional in every way and have stood the test of time in the lines of development and design.
My post about What Books are Within Your Reach? was dated in 2010 and you know what?
To this day, a majority of those books are still within my reach and quite valuable. They never accumulate dust.
Now I know what some people are saying. You have the Internet at your fingertips, why not use that? While the Internet is a great resource, there is something to be said for a solid book that I KNOW has the answers (and sometimes more) within arms reach. I'm not saying all material on the Internet is bad, but it does take time to research that topic. When I've gone through these books and trust the material, I would feel more comfortable reaching for one of these following books/authors.
My preference of book publishers are Wesley-Addison Signature Series, APress, and O'Reilly. In That Order.
On with the list!